Description
Donate a Pop-Up Guerrilla Bookstore in New Hampshire and a Free State Project organization, Liberty Group, or the Art of Liberty Foundation will enjoy the profits.
For $300 + $25 S&H the Art of Liberty Foundation will donate a Pop-Up Guerrilla Bookstore to a liberty organization in the state and they will reap the profits.  A Pop-Up Guerrilla Bookstore will yield $450 – $600 for your favorite Liberty organization in the state once everything is sold depending on the ratio of $45 Book + Liberator bundles or $30 Books and $30 Liberators.  We'd like to get these in The Quill, The Shell, The Wearehouse, Gun Church, The Liberty Block, and the Crypto Six and other Liberty-oriented organizations in the state.  You can specify the group you would like the PUG Bookstore donated to, OR we can donate one to a worthy organization in your name.
The Pre-State Project is our effort to accelerate the liberty goals of the Free State Project by widely exposing the illegitimacy and criminality of "Government" in the state.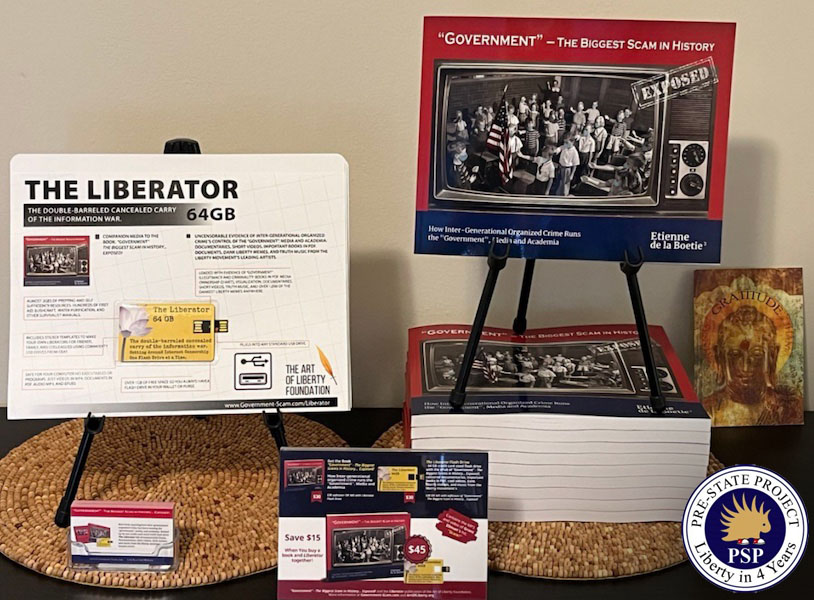 What is included in the Pop Up Guerilla Bookstore?:
10 Copies of "Government" – The Biggest Scam in History…Exposed! (5th Edition)
10 64GB Liberator flash drives
2 Book Stands / Table Easels
1 for Liberator Drive File File Folder Holder
7×5 inch Sign & Sign Holder
Quick Start Guide & Employee FAQ
100 Business Card Sized Info Cards
InfoCard Holder