Description
If You Liked the Book then you are going to LOVE Owning a Pop Up Guerrilla Bookstore!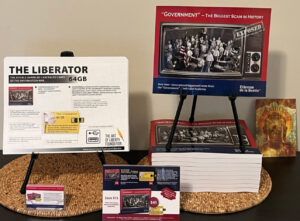 What You Get – Everything you need to merchandise the books and Liberators attractively in a small footprint
10 Copies of "Government" – The Biggest Scam in History…Exposed! (5th Edition)
10 64GB Liberator flash drives
2 Book Stands / Table Easels
1 for Liberator Drive File File Folder Holder
7×5 inch Sign & Sign Holder
Quick Start Guide & Employee FAQ
100 Business Card Sized Info Cards
InfoCard Holder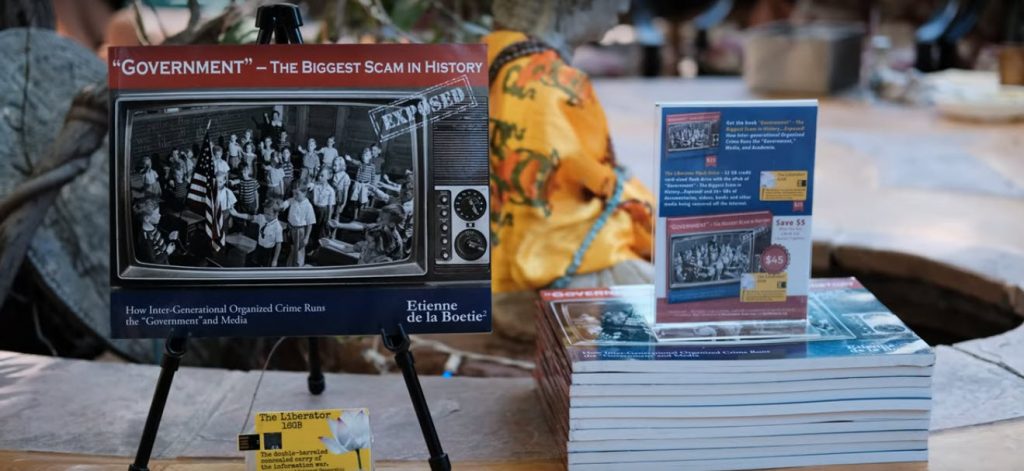 FAQs
Q: What are some tips to market the book?
A: Write: "Loaner Copy" on a single copy and make it your display copy. Let trusted customers borrow the book to review before buying. We have a business card size overview and business card stand that will let them download and review the 4th edition for free BUT encourage them to buy their copy from their local pop up Guerrilla bookstore to save on shipping & handling.
Q: Is there anything on the Liberator flash drive that could hurt anyone's computer?
A: No. It only has videos and documentaries in MP4, music and audio in MP3, documents in PDF, and memes in .jpg or .gif. There are no executables.
Q: If we are reselling copies as a fundraiser or group buy and don't need the retail kit then can we just buy the books and liberator flash drives in bulk?
A: Yes! We call the product a "Friends Bundle" and we have 5 copies + 5 flash drives for $115 and 10 Copies + 10 Flash drives for $220. Guerrilla Bookstore Owners just need to order that item from our website when they are running low. Government-Scam.com/Store
Q: Can we sell the book / flash drive for less than $30?
A: Yes! We cut deals and give away a lot of books for free ourselves!
Q: Can I get my bookstore listed on the global locator map?
A: Yes! Please e-mail location, hours, and contact info to Info@ArtOfLiberty.org
Q: Is there Customer Support?
A: Yes! Info@ArtOfLiberty.org