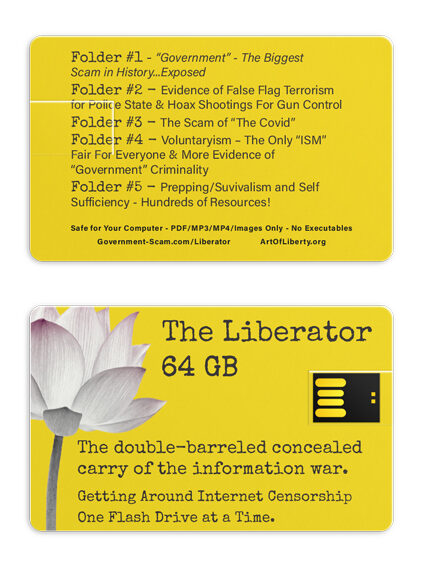 The "Concealed Carry" of the Information War!
64GB Credit card-sized flash drive makes it easy to always have an information weapon to "sneaker-net" around Internet censorship.  Save $15 when you buy a Book + Liberator flash drive combo.

The Liberator – A 64GB uncensorable, credit card-sized flash drive crammed with evidence of "government" and media criminality. that can be easily copied for friends, relatives, and colleagues.   The drive includes 5 Major Sections:
1. "Government" – Companion media to "Government" – The Biggest Scam in History… Exposed! including the ePub version of "Government", the full-scale visualizations, and evidence supporting the book including documentaries, short videos, documentaries, 1200+ dank memes, and truth music from the liberty movement's leading artists.
2. False Flag Terrorism for Police State and Hoax Shootings for Gun Control –  Evidence that the organized crime "government" and monopoly media have been staging false flag terrorism and hoax shootings using Hollywood trickery.
3. "The Covid" & Economic Warfare – The best documentaries, research, and evidence that the "Government" and organized crime media staged a "pandemic" to rob and control the population.
4. Voluntaryism & more evidence of "Government" Criminality – The best resources to understand voluntaryism / peaceful anarchy.
5. Prepping and Survivalism – Prepping, survivalism, and self-sufficiency – Hundreds of resources.
Resistance is the difference between being "enslaved" and being a "Slave". We make it easy to fight organized crime's propaganda system. Simply copy one of our Liberators to a thumb drive or copy your thumb drive to a friend's computer.
Download one of the Liberators to a USB thumb drive with at least 64GB of space here: The Liberator on DropBox.
Important: Only works on super, super fast university-level connections.  Easier to purchase Liberator drive and copy locally.
On the Liberator or in the download, you will find the instructions and printable stickers you need to wrap a USB thumb drive like the one in the picture to the left.  We have two sizes:

Medium Liberator Labels – The stickers print on Avery 6791 1-1/4″ x 1-3/4″ labels.  
Small Liberator Labels: The stickers print on an 8 1/2 x 11 sheet of Avery 8165 Full Sheet label paper and need to be cut.
Liberators – Table of Contents
Liberator 1 – "Government" – The Biggest Scam in History… Exposed! 
Liberator 2 – False Flag Terror for Domestic Police State & Hoax Mass Shootings for Gun Control
Liberator 3 – "The Covid" & Economic Warfare
Liberator 4 – Voluntaryism & more evidence of "Government" Criminality
Liberator 5 – Prepping, Survivalism and Self-Sufficiency