#FreedomFriday
#FreedomFriday is Friday, May 1st 2020
No More Lockdowns!
On Friday, May 1st, we are going outside, hugging our friends and neighbors, reopening and patronizing local businesses, participating in the  #FilmYourHospital Campaign/Survey and planting community gardens.
Reopening Local Businesses – We are encouraging local businesses to re-open for 1/2 a day on Friday, and Farmer's Markets & the same Businesses to Re-Open on Saturday
Friday, May 1st – 12:00 – 9:00 PM Everywhere!
#FreedomFriday
Example Schedule (This is the Actual Schedule for Santa Cruz, California)
10:00 – 11:00 AM PST – #FilmYourHospital – Is Santa Cruz experiencing a pandemic?  Let's have an open conversation with the local hospital. 
10:00 – 1:00 PM – Volunteer at Our Community Gardens & Local Food Bank
– List coming out tomorrow!
11:00 – 2:00 A Different Kind of Sit In! – Lunch @ Your Favorite #FreedomFriday Restaurant
– Each Participating Restaurant will Serve as Collection Points for the Local Food Bank
– Then shop at your favorite stores
2:00 – 4:00PM  Santa Cruz Beach Day – The Beach (Boardwalk/Wharf)
4:30PM Beach Rally – Short Remarks by the Committee to Re-Open Santa Cruz
David Rodriguez – Founder, The Gatto Project
Etienne de la Boetie2 – Founder, Art of Liberty Foundation
Local Merchants – TBD
5:00 March to County Building with Demand For Public Debate
5:30 –7:00 –  City Hall – Public Debate on SC Covid Response & the Legitimacy of "Government"
– Topic & Details: Challenge will be issued to Mayor & City Manager the Week of 4-26-21
Debate Topic: "Government" is Illegitimate & Their Covid Response Making Life Worse for Residents of Santa Cruz
Affirmative: Etienne de la Boetie2 – Founder, Art of Liberty Foundation
Holistic Medical Professional – TBD
Vs.
Negative: Country Supervisors of Santa Cruz– Invited
Dr. Gail Newel – "Government" Health "Officer" – Invited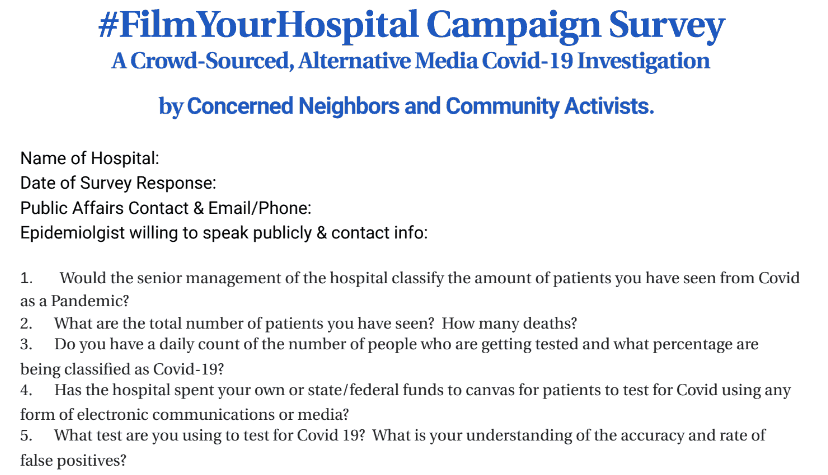 #FilmYourHospital Campaign Survey